CP2 tests knowledge of excel and documentation and it consists of 2 papers. CP2A and CP2B both are to be assessed in 3 hours and 15 mins.
CP3 tests knowledge of presentation of specific topics to non technical audience and is to be assessed in 3 hours and 15 mins.
CP2 + CP3
₹20,000.00
Course: CP2 + CP3
Faculty: Mrs. Silky Goyal
Detailed video lectures covering conceptual plus past papers discussion plus case studies
Detailed past papers discussion of both IAI/IFOA societies
Mock Tests at regular intervals and detailed feedback sharing
One to one sessions with faculty for feedback discussion
Past papers checking and feedback discussion
About Faculty
Mrs. Silky Goyal
She is coming straight from the industry and now at a place where her heart lies.
Visionary on the path of becoming an actuary laid the foundation of The Academic Junction.
Corporate Experience combined with on job training helps her to combine real life experiences with theoretical concepts which turns theory subjects into practical and more interesting.
Related products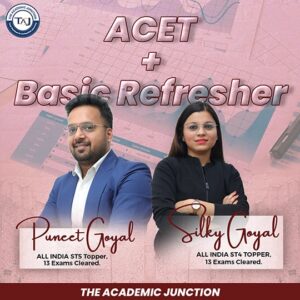 ₹

14,000.00
₹

32,000.00